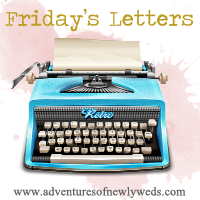 So, I guess you are surprised to see me here? Huh? Well, I decided to try my hand at a little Friday's Letters. I have been on the go with the kiddos and just plain ol' chillin'. How about you?
Dear bikers, on the walking and running path, please use caution and extend some courtesy as you roll up on my left side. It is nice to offer a friendly, "on your left", as you pass. My heart will thank you next time as it won't skip a beat and will remain in tact. Thank you!!
Dear grown-ups, it is not nice to tune out once you have asked another adult a question. It is called active listening for a reason. Did you hear me?
Dear tailgaters in humongous tank-like SUVS(sorry for my readers who drive these), please give me a a comfortable cushion. I know you are anxious to get to work, etc., since you are already running 15 behind, but I have children in the car. Thank you kindly.
Dear right knee, I can not wait for you to meet the doctor next week so that she can inform us of what we need to do to get back out there. I need you, BIG TIME!! We have miles to log and races to run.
Dear Jaryn, wow what a week it has been celebrating your 12th year!! I can still remember you weighing 6lbs, 4oz., and now you are almost as tall as me!! Where did the time go? I almost can not believe that you are becoming a young lady before our very eyes!! You will always be our little lady bug!!
Dear Kendall and the Bible Study group/soccer team, what a cool "fun" raiser you girls had today! Swimming, nail polishing, and selling ice cream for school supplies for
the Dream Center.
What a fun time we all had. We are so proud of you for serving where you are called and leading by example!
Dear Jeremiah, you are the KA-POW in my day! I never know if we will be easy as pie or tough as nails! You most certainly play hard and love hard too. You are the spice in our lives for sure. Thank you for making everyday, so unpredictable!!
Dear London, I am so excited that you will host the most amazing athletes the world will see over the next few weeks! I wish I could cross the pond and join you, but I will have to hold it down here stateside in front of my telly. Cheers!