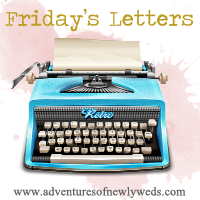 So today I am linking up with Ashley at
Adventures of Newlyweds
to share a few thoughts disguised as letters.
Dear Vega$
, thank you for returning my husband after a long week. I am sure you took great care of him and made sure he exercised, ate 3 square meals and got plenty of rest? I know for sure he will come home with a pocket full of money because he ain't no bettin' man and he is sorta frugal. I really appreciate you making sure that he called as often as he could considering the 3 hour time difference and his mornings were our afternoons and such. Thank you kindly again.
Dear Weekend
, I am so glad that you are almost here. I can taste it! We will be very busy as usual, but it still seems like a little rest will be on the horizon!! I am excited!!
Dear Scandal
, it will be a long summer waiting for your return to primetime tv this fall. I will be here, waiting for your premiere.
Dear NO
, I really am enjoying the freedom and peace that I have to proclaim, "NO", whenever I wish! It is so invigorating to know that I do not have to "do" every thing that comes my way.
There is a time and place for every thing.
Ecclesiastes 3
Dear Starbucks
, I promise to stop by this weekend, I know that you are jealous of my Krups coffee maker and you need to see me from time to time. See you soon.